{category.meta_title}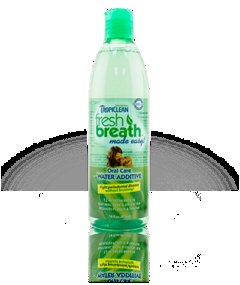 UPC: 645095001114
Manufacturer: TropiClean Natural Pet Products
Tropiclean's natural Water Additive is developed to provide dogs and cats with essential daily oral hygiene care. Without proper dental care, 70% of dogs and cats start to show signs of oral disease by age 3. Oral disease can eventually lead to tooth loss or other serious health problems. Tropiclean's natural Water Additive promotes healthy gums and eliminates bad breath for up to 12 hours.
UPC: 642863101410
Manufacturer: Nutro Pet Food
Treat and bond with your cat while providing essential health benefits. FELINE GREENIES™ SMARTBITES™ Healthy Skin & Fur Cat Treats are not indulgent, empty calories. This delicious, dual-textured treat contains natural ingredients to nourish your cat's skin and help maintain healthy fur.